Prof. Dr. Roland Wismüller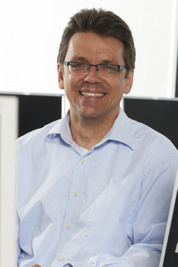 Adresse / Address
Address
University of Siegen
Fakulty IV - Science and Technology
Institute of Computer Science
Operating Systems / Distributed Systems
Hoelderlinstr. 3
57068 Siegen, Germany

Office
H-B 8404
Phone
+49-271-740-4050
Fax

+49-271-740-14050

Email


Encryption
For confidential messages, please use my public PGP key (fingerprint: 14C2 1C3E 7770 84BB A9F4 42E3 0DB6 E6FF B27D BCB1) or my X.509 certificate for S/MIME.
ACHTUNG: Im Moment können keine Sprechstunden durchgeführt werden. Wenn Sie Beratungs- oder Gesprächsbedarf haben, melden Sie sich bitte per E-Mail (siehe oben) bei mir!

Sie können mich in der Sprechstunde auch als Studiengangsberater für den

Bachelor

-Studiengang "

Informatik

" mit

Vertiefung Mathematik

in Anspruch nehmen.
Ich bin derzeit Vorsitzender des Prüfungsausschusses Informatik.

Bitte beachten Sie meine Abwesenheitszeiten / Please notice my times of absence.
Wenn Sie eine

mündliche Prüfung

bei mir machen wollen, beachten Sie bitte diese Hinweise.
Research Interests
Secure component systems
Type systems
Pattern recognition in sensor data
Wireless sensor networks
Security

Monitoring and instrumentation techniques
Veröffentlichungen / Publications and Talks
Current R&D Projects
Cosma: A virtual machine supporting the secure cooperation of untrusted components.